Fine Food Festival

With over 10 years experience of organising successful Fine Food Festivals as integral parts of their events the Great Game Fairs of Ireland team was delighted to embrace the NI Year of Food and Drink 2016 concept and they are delighted to announce that they are taking that concept forward in 2017. In this we welcome the continued support of the FoodNI group.
In 2016 Food NI Chief Executive Michele Shirlow announced a strategic partnership with the Great Game Fairs of Ireland saying:
"Supporting the growth of rural communities across Northern Ireland by promoting local produce is a key objective of Food NI.
We are delighted, therefore, to be collaborating with Great Game Fairs of Ireland and Irish Countrysports and Country Living magazine. This will provide a significant opportunity to our growing membership of local food and drink producers to showcase the very best of Northern Ireland food and drink during the hugely successful Irish Game Fairs and in the magazine.
This important collaboration is in line with our strategic commitment to develop opportunities for our member companies to reach as wide an audience as possible with their award winning food and drink. As well as coverage in the popular magazine, the collaboration will enable Food NI and our members to take part in the Game Fairs and thereby reach the many thousands of visitors they attract."
'SEE AND SAMPLE'
At the Fine Food Festival at the Irish Game Fair at Shanes Castle 24th & 25th June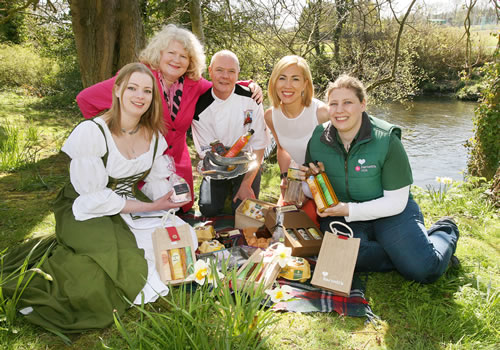 Great Game Fairs of Ireland Chef Emmett Mc Court and Ingrid Houwers, with Michele Shirlow, Good FoodNI and Jane Harnett and Cathy Chauhan from the Ulster Artisan group,
A huge hit with our Game Fair Audience, the Fine Food Festival showcases the very best in food products.
No matter what your taste is - there will be some much to see and sample that we guarantee to tempt the most discerning palette at Shanes.
SOME OTHER REGULARS WHO WILL ALSO BE THERE ARE:
From the Fells of Cumbria - the fantastic food from Peter Gott's Silfield Farm
Peter Gott is not only one of the longest standing fine food exhibitors at Shanes Castle but also one of the UK's top experts on 'slow' and artisan food production. Every year Peter's stand is often the first stand fair regulars visit to put in their order for his famous wild game and wild boar pies.
On display are not only his legendary pies but also all sorts of quality meat products including Wild Boar; Sausages of all sorts; Herdwick Lamb & Mutton; Dry cured Bacon; Burgers; Boneless Roasts and Wild Game. https://www.sillfield.co.uk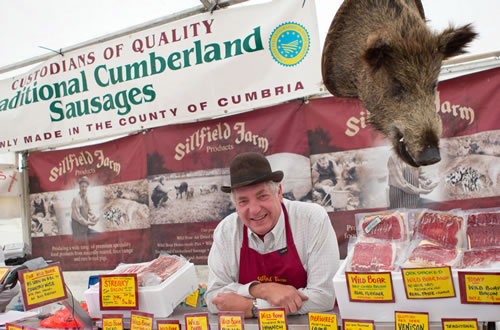 Running down through the other exhibitors there is much to interest and tempt the taste buds of the dedicated 'foodie' including great meat products; honey from the Randalstown Beekeepers; dried nuts and fruits; olives; breads and other bakery products, sausages, cheeses; traditional confectionery, jams and chutneys; and ciders, beers, wines and spirits.