The 40th Anniversary Game Fair Fine Food Festival - one of the largest Food Festivals in Ireland
For over 10 years the Great Game Fairs of Ireland have been developing an artisan food festival as an integral part of the fair which now is not only a showcase for country sports but also for small fine food producers throughout the UK and Ireland. In this we welcome the continued support of the FoodNI group.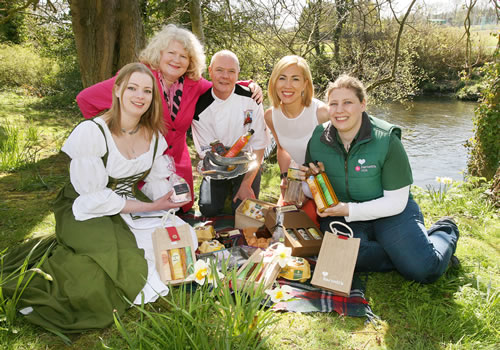 Great Game Fairs of Ireland Chef Emmett Mc Court and Ingrid Houwers, with Michele Shirlow, Good FoodNI and Jane Harnett, Harnett's Oils and Cathy Chauhan from the Lough Neagh Fisherman's Co-operative.
In 2016 Food NI Chief Executive Michele Shirlow announced a strategic partnership with the Great Game Fairs of Ireland saying: "Supporting the growth of rural communities across Northern Ireland by promoting local produce is a key objective of Food NI.
We are delighted, therefore, to be collaborating with Great Game Fairs of Ireland and Irish Countrysports and Country Living magazine. This will provide a significant opportunity to our growing membership of local food and drink producers to showcase the very best of Northern Ireland food and drink during the hugely successful Irish Game Fairs and in the magazine.
This important collaboration is in line with our strategic commitment to develop opportunities for our member companies to reach as wide an audience as possible with their award winning food and drink. As well as coverage in the popular magazine, the collaboration will enable Food NI and our members to take part in the Game Fairs and thereby reach the many thousands of visitors they attract."
As part of this partnership in this very special anniversary year we decided to give FoodNI members special exhibition rates and this has not only resulted in our largest and most varied Fine Food Festival ever but increased media interest from TV production companies and Delicious, the top UK Food magazine) hosting the judging of their Irish regional awards at the fair and bringing their kitchen to the fair. This will be supported as usual by cookery demos by Emmett McCourt in the Flogas Kitchen. We also welcomed the Daily Telegraph featuring us in their 20 top 'must visit' UK Food Festivals and being the only Irish one listed!
WE INVITE YOU TO 'SEE AND SAMPLE' at the stands of some of the producers exhibiting:
At the Fine Food Festival at the Irish Game Fair at Shanes Castle 23rd & 24th June
A huge hit with our Game Fair Audience, the Fine Food Festival showcases the very best in food products. No matter what your taste is - there will be some much to see and sample that we guarantee to tempt the most discerning palette at Shanes and you can 'try before you buy'.
Our Exhibitors include :
From the Fells of Cumbria - the fantastic food from Peter Gott's Sillfield Farm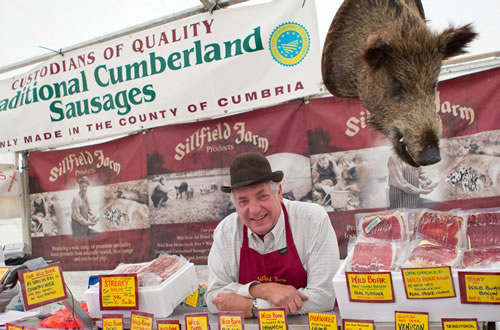 Peter Gott is not only one of the longest standing fine food exhibitors at Shanes Castle but also one of the UK's top experts on 'slow' and artisan food production. Every year Peter's stand is often the first stand fair regulars visit to put in their order for his famous wild game and wild boar pies.
On display are not only his legendary pies but also all sorts of quality meat products including Wild Boar; Sausages of all sorts; Herdwick Lamb & Mutton; Dry cured Bacon; Burgers; Boneless Roasts and Wild Game. https://www.sillfield.co.uk
The Quiet Man Whiskey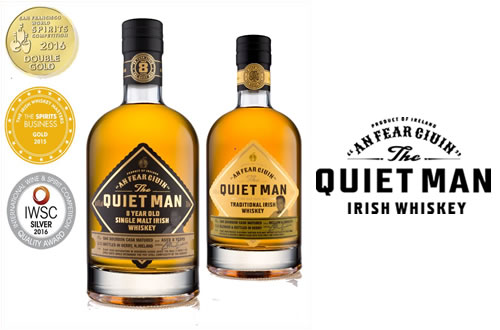 The Quiet Man has become the first whiskey to be matured, blended and bottled in Derry in almost 100 years and when The Quiet Man Craft Distillery and Visitor Centre opens up on Ebrington Square on the city's Waterside in 2019 it will become the first new built distillery in Derry for over 150 years.
The Quiet Man range of whiskeys is multi award winning, with both the Superior Blend and the 8 Year Old Single Malt achieving Double Gold at the prestigious San Francisco Spirits Competition and also gathering a host of gold medals at whiskey shows worldwide.
So come along and try a sample of The Quiet Man - whiskey worth shouting about! www.nichedrinks.com
Harnett's Oil & Sea Salt
Harnett's Oils is a family run business that produces cold-pressed oils from oilseeds sustainably grown on the Waring Estate, Co Down without the use of insecticides and chemicals when harvesting. Predominately Rapeseed is grown which is also flavoured or added to fruit infused cider vinegar from Armagh. Harnett's Oils is great for dips, salad dressings, frying, roasting or as a marinade. The Harnett's also will have their own artisan batch Sea Salt which is produced using sea water from the Atlantic Ocean in Co Mayo.
Scotts Crispy Onions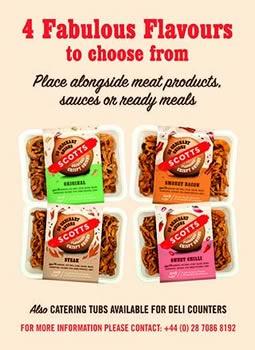 Made with fresh onion, Scotts Crispy Onions, are a fast, hassle free way for you to add a 'restaurant' style topping or side to your meals and snacks at home. Ready in as little as 30 seconds, and with 5 mouthwatering flavours to choose from, the only hard part will be deciding what's your favourite flavour!
Scotts Crispy Onions are produced in Coleraine, as part of the locally renowned, 60 year old, family fruit & veg wholesale business, Sydney B Scott & Sons. The family has worked hard over the last few years perfecting the product and developing it's unique range of flavours. It's fair to say that Scotts Crispy Onions are 'No Ordinary Onions' - taste them and see!
What They Do, Unique range of flavoured Crispy Onions Products Crispy Onions 90g available in Original, Steak, Sweet Chilli, Smokey Bacon and Chinese Salt and Chilli flavour also available in a 35g snack pack. Original Crispy Onions are available in a 1.6kg catering tub. Can be purchased at convenience stores, independent retailers and butchers, NI and ROI. Produced under own brand for Supervalu, Centra (ROI) and Primacy Farm Butchers.
To find your local outlet or to become a stockist email sales@scottscrispyonions.com
Long Meadow Cider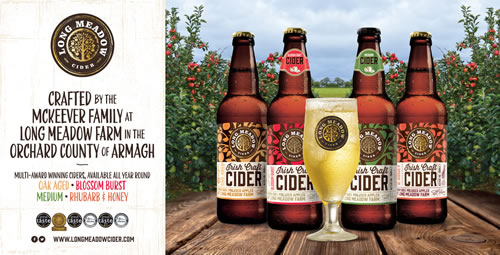 Long Meadow cider is an award winning, family run, craft, cider production company based in the Orchard County of Armagh.
Theirs are true Artisan Craft Ciders made from 100% natural apple grown and harvested on the home farm, pressed and fermented over time in order to create their Medium and Blossom Burst Cider (4.5%) Limited Edition Oak Aged (5.5%) Rhubarb & Honey Cider (4%) and Seasonal Mulled Cider (4.5%).
No concentrates, colours or artificial ingredients are added to their products which are all gluten free. They have recently added Still & sparkling Apple Juice (750ml & 250ml bottles) and Apple Cider Vinegar (750ml & 330ml bottles) to their range.
They have won various awards namely The Great Taste Awards, Blas na hEireann Awards, International Cider Challenge, Food Heartland Award, Grow Make Eat Drink Awards.
Their motto "From Plant to Pour". http://www.longmeadowcider.com
BlackFire Artisan Food - Makers of Belfast's Original Hot Sauces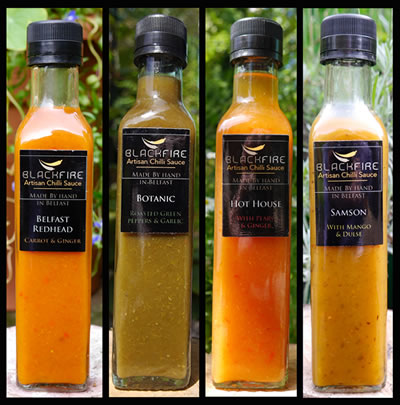 It's a small Belfast based company specialising in the creation of unique, fresh chilli sauces, all of which are, allergen and gluten free as well as being low in calories. They contain only natural ingredients and are free from added sugar & salt as well as artificial colours or preservatives. We grow 2 dozen varieties of peppers all year round from medium hot up to super hots as well as many of the vegetables, fruits and herbs used to create the sauces. We produce limited batch seasonal sauces too with ingredients from hedgerow and seashore including dulse, wild garlic and rose petals.
Crossogue Preserves
Simplicity combined with superiority is the key to a superb product range. All preserves are made using traditional cooking methods using the highest quality ingredients and produced in small batches by hand to maximise control procedures and taste; no artificial colourings, flavourings or preservatives are used. Although this means that production is labour intensive it results in a unique and distinctive flavour.
This continuing dedication aimed at producing a superior product has brought success in the shape of Gold, Silver and Bronze Awards for the past ten years at the prestigious Guild of Fine Food Fair held in London. In July 2007 Crossogue Preserves won 5 Gold medals in London and a fêted Bridgestone Award and was also appointed as supplier of preserves to the Ritz-Carlton Hotel at Powerscourt. Crossogue House, Ballycahill, Thurles, Co. Tipperary http://www.crossoguepreserves.com
Lough Neagh Fishermen's Co-Operative Society
Lough Neagh Fishermen's Co-operative Society (LNFCS) own the fishing rights for Lough Neagh, the largest lake in the British Isles, covering an area of 400 Km2. LNFCS have been in existence since 1967 and are a Co-operative, protecting the livelihood of fishermen and building a sustainable, viable future for fishing on Lough Neagh.
LNFCS manage the largest wild eel fishery in Europe and currently produce 14% of all wild caught eels in Europe, which equates to approx. 300 tonnes of eels annually. Approximately 80% of Lough Neagh eel are shipped to Holland, with a majority of the remaining 20%, shipped to London for the production of jellied eels. A small proportion are processed at the HQ in Toomebridge for distribution throughout the island of Ireland. In 2011 they were awarded the Protected Geographical Indication (PGI), recognising the authenticity & heritage of the best quality eels in Europe. In fact, Smoked Lough Neagh Eel tastes so good it was awarded 3* in the Great Taste Awards 2017!
With approximately 500 tonnes of commercial coarse fish caught annually from the Lough Neagh, LNFCS have set high standards in the processing of scale fish. There are several species of freshwater scale fish which are native to Lough Neagh including Pollan and Dollaghan (brown trout). Other species such as perch, roach, pike & bream are also fished during their seasons.
www.loughneagheels.com; www.twitter.com/loughneagheels Cathy Chauhan t 028 7965 0618 e cathychauhan@loughneagheels.com
McIvor Cider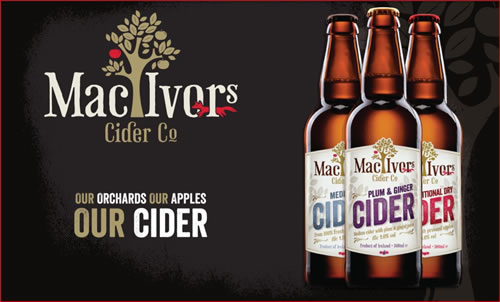 Greg MacNeice is a fifth generation apple grower. For over 150 years his family has been growing apples in County Armagh, Ireland's 'orchard capital'. Mac Ivors Cider Co. was born in the autumn of 2009 when Greg set himself the challenge of turning the delicious apples that he grew into a truly great cider. With lots of hard work, devotion and a bit of luck, this has now become a fast growing commercial enterprise with the ciders selling in over 1,000 outlets across Ireland and beyond. Managing over 100 acres of apple orchards is no easy task but Greg learned from the best - his dad Sammy. He, like his father before him, continued the family tradition of growing the beautiful apple trees in harmony with the land that they love. Their target is to make the best cider in the world - you can sample it for yourself at Shanes Castle. http://macivors.com
Broom Cottage
Broom cottage is a family run business based on the Ards peninsula in Northern Ireland. We produce a range of natural soaps and cosmetics using our own home produced goats milk, beeswax and honey, We also make a unique range of preserves incorporating home grown fruit,vegetables and honey. At Broom Cottage we are passionate about good food and ensuring our customers know where and how their food is produced by growing and using as much of our own ingredients. We enjoy providing our customers with products that they know are locally made from start to finish with enthusiasm and a passion for nature. E: broomcottage16@gmail.com
Forthill Farm
Kenny and Jennifer Gracey are continuing the Gracey tradition of farming at Forthill in Tandragee, Co Armagh, Northern Ireland. Producing the best quality free range pork and free range beef from traditional breeds.
The Gracey family have farmed at Forthill since the 1700s and during that time there have been a lot of changes in farming practices, but not always for the better. We provide enjoyable food with real taste, through a total focus on product quality, innovation and customer satisfaction. We believe food from the farm to be the new way to reclaim traditional standards.
Our free range pigs and cows are produced naturally, reared without the use of antibiotics, hormones or growth promoters. With freedom to roam in open spaces outside our animals can obtain minerals from the soil ensuring the highest quality free range pork and free range beef is produced.
At Forthill we have returned to the traditional breeds of both cattle and pigs, namely Belted Galloway and Longhorn Cattle, Gloucestershire Old Spots and British Saddleback pigs. It is our belief that the older traditional breeds produce meat of superior quality.
Our aim is to educate our customers on the healtheir natural way to produce free range pork and free range beef and also provide them with an affordable way to feed their family with real meat, as nature intended.
"The difference between properly handled rare breed meat and modern hybrids is vast - it's like comparing chipboard to Chippendale". Richard Vaughan of www.fooduk.com quoted in Country Living - http://www.forthillfarm.co.uk
Peaky Blinders Spirits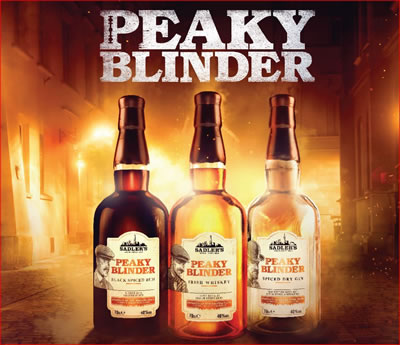 England's famous 'Black Country', the Sadler family have been purveyors of the finest spirits since 1900. A century's worth of knowledge and passion has led the family to create this exceptionally smooth, triple-distilled, blended Irish whisky, handcrafted spiced gin, with exotic spices and botanicals and bold rum, blended with selected spices delivering notes of orange, nutmeg, vanilla and raisin. https://www.sadlersales.co.uk
Kin Toffee Vodka is created in the heart of the Lake District
Our premium drink can be enjoyed straight and is superb served chilled direct from the fridge or with ice. It also works incredibly well in cocktails such as adding to prosecco, bourbon, espresso martinis are a few suggestions. It also makes a fantastic addition to hot drinks, creating 'toffeelicious' coffees and hot chocolates plus it is a fantastic ingredient in desserts and puddings such as cheesecakes, jellies, with meringues and simply poured over ice cream. https://kinvodka.co.uk
Kennedy Bacon

Kennedy Bacon is a small business situated on their farm in Glenhordial, Omagh. The company has 4 full time employees. Mervyn the owner is a passionate farmer and has been involved in the rearing of pigs since his childhood.
In the past 4 years he has set about producing high quality bacon and gammons earning him the title of Great Taste Producer
He cures the bacon by hand in the traditional way, no injection or water is added at any time throughout the process. The products are all free from phosphates. This results in proper dry cured products with a full flavour of the pork emerging. https://www.kennedybacon.co.uk
Old Irish Creamery
Cheeses in the Old Irish Creamery range have won Gold, Silver and Bronze Awards in Dublin in 2008 and in 2009 at the worlds largest international cheese show, which is held annually at Nantwitch in Cheshire, England.
Setting the standard with J.O.D. Foods A strict quality control regime is in place at the Co. Limerick facility, where product is manufactured to the BRC Series 5 Grade A standard. Only the finest cheeses are blended with the choicest of natural ingredients to produce specialty cheeses with deliciously distinctive flavours for the discerning palate
Cheeses include : Natural Irish Oak Smoked Cheddar, Cheddar with garlic and herbs, Cheddar with chilli, Cheddar with blueberries, Cheddar with walnuts, Cheddar with chive, Cheddar with Red Wine,
Cheddar with Irish Porter (Guinness), Cheddar with Irish whiskey (Jameson),Cheddar with Cranberries, select white/coloured cheddars, Vintage white/coloured cheddars and Cheddar with Curry. www.oldirishcreamery.com
Corndale Farm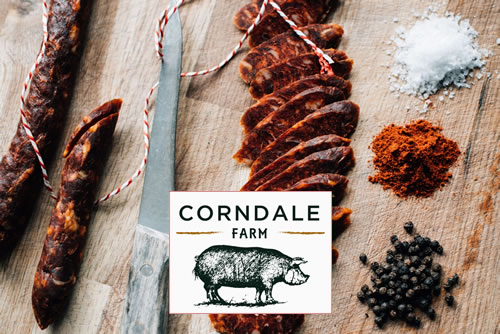 Corndale Farm is a high welfare, free range pig farm based in Limavady. Establish in 2012 by Alastair Crown, They produce Northern Ireland's first range of air dried charcuterie products. Their Chorizo's and Salami's have won various awards including 2 Star Great Taste and Gold and Silver at Blas na hEireann - Irish Food Awards. They operate a farm to fork approach and ensure full traceability in all their products. They also provide unique outside catering for weddings, corporate events and private parties. A Corndale Farm hog roast is always a crowd pleaser. Products available to buy online. Details of retailers also available on the website.
Contact : Alastair Crown 028 777 78222 (Office) 07843094876 (Mobile)
Email: info@corndalefarm.com Web: www.corndalefarm.com
Facebook: @Corndalefarmproduce Twitter: @corndalefarm
Anzac Wines & Spirits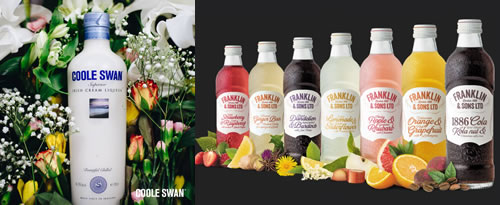 Anzac Wines & Spirits always look forward to attending the Irish Game Fair at Shane's Castle and this Summer will be no different given the fabulous products that we will have on offer over the popular weekend. We are back with the supremacy in Irish Cream Liqueur this is Coole Swan. It's been such a hit over recent years and we know it would be missed if we didn't bring it along for you again. A blending of fine Single Malt lrish Whiskey with White Belgian Chocolate and Fresh Dairy Cream, Coole Swan is 100% natural and is regarded as one of the world's most delicious tasting lrish Cream Liqueurs. We don't just expect you to take our word for it though, come try it for yourself. In its quirky 19th century milk bottle design, Coole Swan also makes for a perfect gift.
New to the 2018 fair will be Franklin & Sons premium selection of soft drinks, an award winning range, first introduced way back in 1886. The products continue to follow the same company ethos today, using only natural flavours, extracts and colours, never including preservatives or sweeteners. By sourcing the best possible provenance of ingredients, the results are a well balanced range of drinks, deliciously different to others in the market, created with only a subtle carbonation to each variant to ensure they match well with food. Further paring attributes is the introduction of a tertiary culinary ingredient within each recipe, such as cracked black pepper, cinnamon, star anise or crushed juniper. Don't miss these if you like the sound of Cloudy Apple and Yorkshire Rhubarb with Cinnamon or 1886 Cola with West African Kola Nut & Columbian Coffee Bean (only just 2 examples from this unique range). Team Anzac will see you there for all the fun of the fair!
www.facebook.com/anzacwinesandspirits/
Kilmegan Cider - three great ciders from County Down's Andrew Boyd
Elder Flower Cider
Picked on warm, dry mornings and in their prime, local, wild elderflowers are only then ready to be carefully infused and later blended to our 100% pure juice and unfiltered 'Real Cider' to give you a delicate and subtle floral finish.
Irish Farmhouse Cider

Using a traditional rack and cloth press this unique cider is made with 100% pure juice. Later we blend in the sweet juice from late season eating apples to our fermented cider to give you a fresh apple finish. Suitably chilled our Irish Farmhouse Cider is enjoyed on any occasion.
Real Cider
A taste of the original art of cider making, our Real Cider is a fully dry, 100% pure juice cider that has not been pasteurised or filtered, allowing a secondary in bottle fermentation. This gives you a light, natural carbonation with fresh fruit flavours and a long finish.
These are just some of the producers that will be exhibiting in two Pavilions.