Fine Food Festival


With over 10 years experience of organising successful Fine Food Festivals as integral parts of their events the Great Game Fairs of Ireland team is delighted to embrace the NI Year of Food and Drink 2016 concept and to enhance our Fi-ne Food Festivals by forming a strategic partnership with the FoodNI group.
Food NI Chief Executive Michele Shirlow announcing a strategic partnership with the Great Game Fairs of Ireland said
"Supporting the growth of rural communities across Northern Ireland by promoting local produce is a key objective of Food NI.
We are delighted, therefore, to be collaborating with Great Game Fairs of Ireland and Irish Countrysports and Country Living magazine. This will provide a significant op-portunity to our growing membership of local food and drink producers to showcase the very best of Northern Ireland food and drink during the hugely successful Irish Game Fairs and in the magazine.
This important collaboration is in line with our strategic commitment to develop op-portunities for our member companies to reach as wide an audience as possible with their award winning food and drink. As well as coverage in the popular magazine, the collaboration will enable Food NI and our members to take part in the Game Fairs and thereby reach the many thousands of visitors they attract."
'SEE AND SAMPLE'
At the Fine Food Festival at the Irish Game Fair at Shanes Castle 25th & 26th June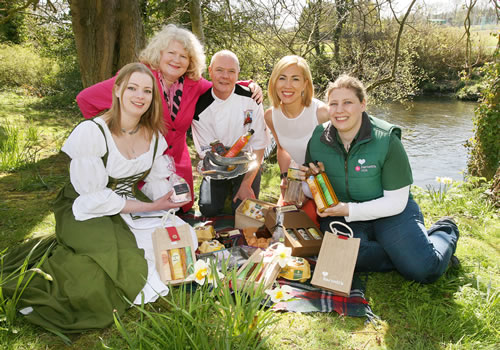 Great Game Fairs of Ireland Chef Emmett Mc Court and Ingrid Houwers, with Michele Shirlow, Good FoodNI and Jane Harnett and Cathy Chauhan from the Ulster Artisan group,
A huge hit with our Game Fair Audience, the Fine Food Festival showcases the very best in food products.
No matter what your taste is - there will be some much to see and sample that we guarantee to tempt the most discerning palette at Shanes.
Listed below are just some of the amazing food producers who will there throughout the Fair.
'ULSTER ARTISANS'

Formed in April 2015, Ulster Artisans is a not-for-profit group of artisan producers from across the nine counties of Ulster - created by producers, for producers. Whether for advice on equipment, recommendations on outlets, or a simple cup of tea, catch-up and chat, members of the group support each other wherever possible. The Ulster Artisans 'pop-up shop' featuring a selection of produce from various members will be found at the Shane's Castle Game & Country Fair.
Harnett's Oils
Northern Ireland has the ideal conditions for growing oilseeds. The Harnett family know this and that's why the fields on their County Down farm are worthy of a Van Gogh painting when the crops are in flower. They grow oilseed, rape and hemp, then cold-press them and bottle them all on site. These golden-hued bottles of loveliness are so healthy it (doesn't) hurt. We're talking oodles of Essential Fatty Acids in the perfect ratio for the human metabolism as well as vital vitamins and terrific trace elements. Multiple-awards held for range.
Moditions Bakery (Gluten Free)
Moditions began as a journey of love when its founder Christine Shaw endeavoured to create great-tasting gluten-free bakes for her coeliac husband. Today, she owns a dedicated gluten-free bakery full of delicious products everyone can enjoy. Production is never outsourced, and all of their cakes are baked to order just for you, handmade by their team, using only the best quality ingredients. Range includes cakes, baking-mixes, frozen bake-off items and jams. Great Taste Award Winner.
Our Daily Bread
Belfast-based artisan bakery Our Daily Bread was founded in 2012 by Melanie Gilfillan and specialises in fresh wheaten and soda bread mixes for home baking enthusiasts. In June 2015, they launched 'Twice Baked Irish Wheaten Toasts' as an accompaniment for cheese, pate or dips. The new Toasts are pure wheaten and do not contain yeast, artificial flavourings or preservatives. The crisp bread thins, are twice baked to bring out the natural nutty flavours and are perfect for cheeseboards especially goat's cheese. Great Taste Award Winner.
Cavanagh Free Range Eggs
John and Eileen Hall from Fermanagh built their first hen house in 2001 and now have over 42,000 free-range birds roaming across the local countryside. They know that contented hens lay great quality eggs so they work hard at creating the best possible environment for them. They're obviously happy hens because they produce nearly 13 million eggs between them every year and are proud winners of multiple awards.
The Gluten Free Patisserie
More and more people are choosing to eat gluten-free these days and Katrina Lynch, a trained pastry chef, sees no reason why those people should be denied delicious patisserie and breads. What started as a cottage-industry has now grown into a thriving business. As well as supplying shops and selling at markets and events, Katrina also provides classes in Gluten-Free Cooking and Baking at Ashfield Girls High School in Belfast.
Camran Marshmallows
Camran Artisan Marshmallows was developed by two mums with children on the Autistic Spectrum who decided to pursue their passion for quality and natural products by developing an amazing range of marshmallows. Each of their families have been fantastic guinea pigs, and they are confident the range they offer will bring a smile to your face also! Their sumptuous range uses only natural flavours, colours and preservatives. Each one is hand made to perfection to tantalise your taste buds. The majority of the marshmallows are also gluten and egg free. Handmade and hand packaged, they take pride in our product and assure that each mallow is a wonderful taste sensation.
Miss McKeown's Tea
Boutique local tea producer Miss McKeown's embodies class and sophistication; from the aromatic, hand-selected ingredients to the nostalgic vintage packaging.
Distinctive blends include award-winners such as Heritage Breakfast, flavourful and healthy Mint Humbug, and the subtle delicacy of Pear Champagne. Their traditional range is enriched with quirkier offerings such as Goblin Market and Quatermain's Study, and Christmas favourites Warm Gingerbread and Turkish Delight. An ambitious charity donation scheme complements their focus on great ingredients and full flavours - they donate one cup of tea for every cup you buy. Careful selection of only the finest whole-leaf teas, and a commitment to superior botanicals promises indulgence in every cup.
Made With Love
Margaret Cooper is a woman with a passion for cooking. She started making her fudge, jams and chutneys for friends who encouraged her to try and sell them. She took the chutney to markets and school and church fairs and found that her friends were right. Keeping it truly local, everything she uses is grown herself or sourced in and around her hometown of Donaghadee. Range includes seasonal jams, chutneys and fudge.
Glens of Antrim Ales
Created by Pat and Isabella McCarry, Glens of Antrim Craft Ale & Beers is a really small brewery situated at the very corner of Ireland, across from Rathlin Island and the Mull of Kintyre. They use only natural products and spring water to produce their handcrafted ale and beers and their secret ingredients are passion for what they do, spring water and time! Pat and Isabella take care of everything on site: brewing, fermenting, bottling labelling and bottle conditioning. It's what they like to drink: and hope you do too!
The Chocolate Manor
The Chocolate Manor was established in November 2012 in the Coleraine home kitchen of mum of two, Geri Martin. The vision for the business was to delight and impress with unique chocolate creations, and was the first artisan producer in the province to design and handcraft a range of bespoke printed products, using the finest Belgian chocolate. In 2015 they launched the first range of printed chocolate bars available for the retail in NI. The 50g bars are available in milk and white and includes a selection of fun and quirky sayings including 'Life Happens, Chocolate Helps', 'I could give up on Chocolate, but I'm not a quitter' and more.
Hillstown Brewery
The big red tractor on top of the Hillstown Farm Shop is the inspiration for one of the craft beers made by Hillstown Brewery. Their Massey Red is part of a 5-strong range consisting of The Spitting Llama, Massey Red, Goats Butt, Rye Hybrid, Horny Bull Stout! The microbrewery hasn't been in operation for very long, but it's already won a Great Taste Award for their Rye Hybrid, and won gold in the all Ireland Killarney beer festival for the Spitting Llama Belgium triple beer and Silver with the Goats Butt.
Addie's Fudge
Mum of two boys Adrianne Sibbett has turned her passion for cooking and baking into a thriving business. Since starting in April 2014, Adrianne has worked hard to develop Addie's Fudge as a premium brand using only top quality ingredients, traditionally made in small batches for a smooth melt-in-the mouth creamy texture, and hand packed in her own kitchen. The range consists of three main flavours; Butter Fudge, Strawberry Twist, and Chocolate Bailies.
Lough Neagh Eels
Lough Neagh Fishermen's Co-operative Dociety Ltd was established in 1965 to represent the interests of local fishermen and by 1972 had acquired outright control of the company known as Toome Eel Fishery. It manages the fishing rights on Lough Neagh, which is home to the largest eel fishery in Europe. Traditionally, there are two methods employed in the capture of brown eels on the lough, long-lining and draft netting, while a percentage of the silver eels are trapped at fixed weirs on the Lower River Bann. We have a strong commitment to the needs of our customer base and will continue to service this with quality live eels. We also focus on processing eels for outlets in Ireland and the UK. Our vision is to have Lough Neagh fresh and smoked products on menus and dinner tables everywhere.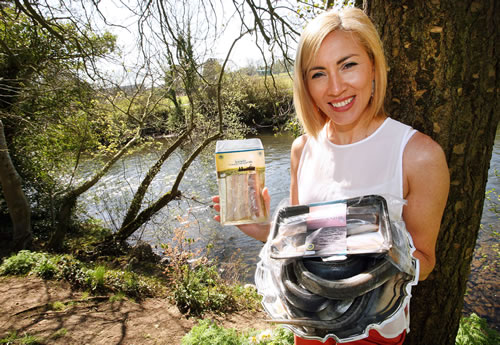 Cathy Chauhan with some of the Lough Neagh Eel products that will be for sale at the fair.
And of course our Great Game Fairs of Ireland Award winning chef will feature eels within his game and fish cookery demos in the Flogas Kitchen
SOME OTHER REGULARS WHO WILL ALSO BE THERE ARE :
From the Fells of Cumbria - the fantastic food from Peter Gott's Silfield Farm
Peter Gott is not only one of the longest standing fine food exhibitors at Shanes Castle but also one of the UK's top experts on 'slow' and artisan food production. Every year Peter's stand is often the first stand fair regulars visit to put in their order for his famous wild game and wild boar pies.
On display are not only his legendary pies but also all sorts of quality meat products including Wild Boar; Sausages of all sorts; Herdwick Lamb & Mutton; Dry cured Bacon; Burgers; Boneless Roasts and Wild Game. https://www.sillfield.co.uk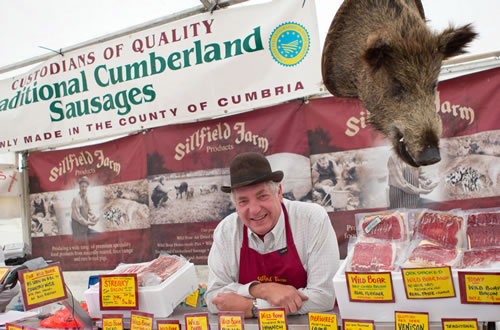 Running down through the other exhibitors there is much to interest and tempt the taste buds of the dedicated 'foodie' including great meat products from Forthill Farm; honey from the Randalstown Beekeepers; dried nuts and fruits; olives; cheeses; traditional confectionery, jams and chutneys; and ciders, beers, wines and spirits.
Old Irish Creamery and Springwell Sheep cheeses have superb ranges of cheese to de-light any palate. Apart from the brewers mentioned earlier we have a great range of drinks from wines to a range of spirits, beers and ciders. We have three great ranges of craft cider from Kilmegan, Longmeadow and the Armagh Cider Company, a great range of drinks from Anzac and the new range of beer from the Lacado Brewery.
And of course one of our most stylish exhibitors with fabulous cup cakes is Miss Daisy Doodle!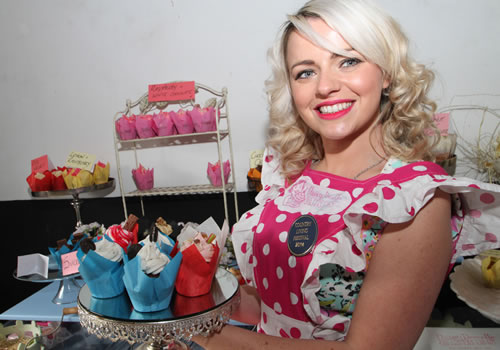 The Food Festival at Shanes Castle is supported by Tourism NI and by North Down Marquees.