Events
The Competitions and prize structures at the Great Game Fairs of Ireland are unrivalled by any other similar event in Ireland. This is because as country sports enthusiasts ourselves we believe that at the core of any game fair are the competitions and displays for enthusiasts and providing opportunities for the family to participate in a range of 'have a go events'.
As we move into our 41st year of organising game fairs, for our 65th Fair we have joined up with Alan Collins to stage our 65th fair as part of a new Irish Country Lifestyle Festival at the world famous Galway Racecourse, Ballybrit on the 15/16 June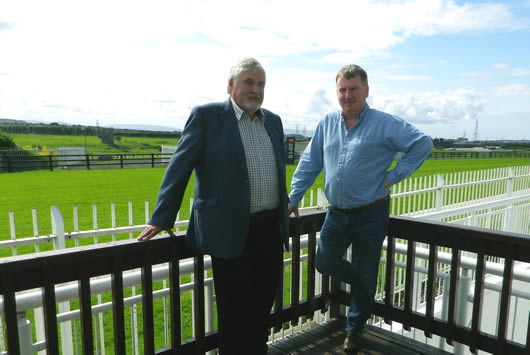 Albert Titterington & Alan Collins, two of the most experienced event organisers in Ireland
Although new home & garden features have been added there is a strong Game Fair flavour to the event with an excellent range of country sports trade stands and some superb country sports competitions. Exciting plans are already in place to develop both strands even further in 2020. Country sports enthusiasts attending Galway will get half price admission to the Irish Game Fair at Shanes Castle on the 29th & 30th June
The programme is constantly being updated but if you look at the individual event pages you should see why the Irish country sports community recognises that we organise the REAL Irish Game Fairs with the best competitions and prizes for real enthusiasts and aspirational 'amateurs'.
We thank all of our sponsors and commend their products to you