Trade Exhibitor Information
Ireland North and South is a good market for country sports and country lifestyle orientated products and the Great Game Fairs of Ireland for 43 years have proven to provide an excellent market place for companies with quality products. The success of the fairs has been recognised by winning several marketing and tourism awards.
In 2021 there will only be one major ALL IRELAND GAME FAIR at Shanes Castle and with the enhanced promotion plans we have put in place we are confident that attendance from all over Ireland will break all previous records. Plans are in place to revert to the two fairs in 2022 when our new ROI site will be ready.
The fair will be promoted to an ALL IRELAND audience using a multi media campaign including TV, radio, newspapers, social media, car stickers, posters, flyers, exhibiting at other events, through our own Irish Country Sports and Country Life magazine ( 100,000 readers per issue), the year long THE VIRTUAL GAME FAIR thevirtualgamefair.com ( with over 200,000 visitors to date), a promotional video and a major professional PR campaign. In summary – it will be arguably one of the best marketed events in Ireland.
In Shanes Castle, the Festival has one of the most historical and beautiful sites situated in the heart of Northern Ireland with good road, rail, sea and air access and one that has a long track record of attracting large crowds.
The Irish Game Fair has always attracted the cream of country sports competitors because of the quality of its competitions including prize funds unrivalled in Ireland. Added to this is a fantastic breadth of family entertainment including a Fine Food Festival, a Living History Festival, and entertainment in three arenas. In short, something to attract and entertain anyone who lives, works or plays in the Irish countryside.
For exhibitors from outside Ireland we have special ferry rates and for all exhibitors excellent 'value for money' accommodation rates in a wide range of accommodation.
And we can enhance your participation at the fair and extend your reach into the market by putting together a unique promotional package including exhibition space at the fair and advertising & editorial coverage in the Irish Country Sports and Country Life magazine and/or a stand at THE VIRTUAL GAME FAIR where you can trade 24/7 365 days per year.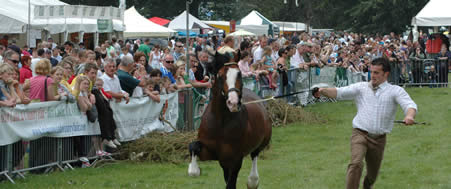 A typical crowd at Shanes Castle
For fuller details of the event or exhibition space contact : Albert, or Paul 028 44839167/028 44615416 or email irishgamefair@btinternet.com