Trade Stand Info
TEN GOOD MARKETING REASONS
Why should you exhibit at the Irish Game & Flavour Fine Food Festival and its partner fair the Irish Game & Country Fair at Birr Castle, Co Offaly

"Ireland's No 1 Game Fair and much. much more!"
Ireland North and South is a good market for country sports and lifestyle orientated products
The Fairs at Shanes Castle and Birr Castle have a long track record of being the most successful of Ireland's Game and Country Fairs. In 2013 we combined the Ballywalter Game & Country Living Fair with the normal fair at Shanes Castle to create potentially the largest ever Irish game fair under the title The Irish Game Fair and Flavour Fine Food Festival.
The Fair has received official recognition by winning the prestigious Tourist Board Marketing Excellence Award and many other tourism and marketing awards.
The Fair has the most experienced organising team in Ireland with a track record of delivering successful Fairs, Festivals and Public and Trade Exhibitions over a 35 year period and this year they celebrate their 62nd and 63rd fairs and over 30 years in COUNTRYSPORTS PUBLISHING.
The Fair has the most effective, creative and professional advertising and public relations campaigns including quite uniquely having its own support media including producing its own free newspaper and having the support of the high quality quarterly magazine Irish Countrysports and Country Life (hard copy and free to read online) plus its own web site www.irishgamefair.com plus the support of the Flavour Fine Food magazine www.yourflavour.co.uk
In Shanes Castle, the Festival has one of the most historical and beautiful sites situated in the heart of Northern Ireland with good road, rail, sea and air access and one that has a long track record of attracting large crowds.
Normally the main arena programme surpasses any other Irish outdoor show in terms of pure spectacle and entertainment – this year the fair will feature three arenas. value AND the competitions have prize structures unrivalled in Ireland.
The two GREAT GAME FAIRS of IRELAND host international class ALL IRELAND GAME FAIR SPORTING CHAMPIONSHIPS with prize money unrivalled in Ireland – that is why these are the fairs for the real country sports enthusiast. But as the fairs also have an extensive programme of family attractions they genuinely can claim to appeal to anyone who lives, works or plays in the Irish countryside.
The organising team and the Fair have proven that they can deliver a high quality urban and rural audience with good purchasing power for quality products in VIRTUALLY ANY WEATHER. While events in UK were being cancelled in 2012 and other Irish events rather descended into muddy chaos the wet weather provisions of the Great Game Fairs of Ireland ensured our events went on as planned!
And the 10th and most compelling reason is the Fair's track record of attracting crowds such as those photographed below!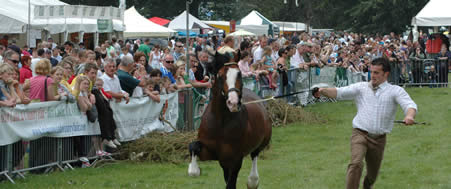 If you have a product that could appeal to a crowd such as this, then do not delay - book your space now!
For fuller details of the event or exhibition space contact : Albert, or Paul 028 44839167/028 44615416 or email irishgamefair@btinternet.com