The Organisers
The team behind the Irish Game Fair & Fine Food Festival at Shanes Castle was the one that brought the Game Fair concept to Ireland in 1978 and has been involved in running successful Game Fairs in Ireland for 40 years. This makes them one of, if not the most experienced Game Fair organising teams in the world. They are also responsible for the Irish Game & Country Fairs in the ROI, and The Irish Countrysports and Country Life magazine (available as hard copy glossy and FREE to READ online at www.countrysportsandcountrylife.com)
Albert & Irene Titterington Marketing and Planning Directors
Albert brings to the team, creative marketing flair, vast event organising experience and a lifetime's commitment to the promotion and enjoyment of all countrysports.
He was born in Belfast and educated at Liverpool University (BSc Natural Science); The University of Ulster (DMS, DipM) and QUB (MBA and top student overall). Albert was not only founder and director of the first major Irish Game Fair at Clandeboye in 1979, but also a Director of the National Town and Country Fair, at Slane, Co Meath, and organiser of Printing, Technology, Educational, Security and Pharmaceutical exhibitions throughout the UK. He is currently a Director of the award winning Irish Country Lifestyle Festival at Shanes Castle, Co.Antrim and the Irish Game and Country Fair at Birr Castle, Co Offaly - these two Fairs are undoubtedly the PREMIER GAME FAIRS IN IRELAND and are appropriately branded as such as the GREAT GAME FAIRS OF IRELAND.
A Senior Lecturer in Marketing at the Queens University of Belfast for 22 years, Albert's marketing flair and expertise has been recognised by the demand for his consultancy services both locally and throughout the world with organisations such as the World Bank, the EU, DTI, DFID and The Asian Development Bank. He has completed assignments in Indonesia, Cuba, Moldova, Belarus, France, US and Georgia. He currently lectures on the University of Liverpool's international internet MBA.
Albert is actively involved in running a shoot, stalking and in gundogs through his chairmanship of the Ulster Golden Retriever Club and Ruadth Kennel of working golden retrievers and Gordon setters. He has been the publisher of several country orientated books and conservation articles, facilitated the BBC series The Peer and the Park, and was the publisher of Ireland's longest continuously published country sports magazine which has now been subsumed into his current publications Irish Countrysports and Country Life magazine and internet portal. We think it is fair to say that few if any Game or Country fair organisers anywhere in the world would have either Albert's wide range of experience or marketing ability.
Irene Titterington
Born in Belfast, Irene Titterington brings to the show exemplary administration skills gained in management positions within the insurance industry (Royal Exchange), health service (Belfast City Hospital) and Titterington family! Irene has provided the back up for teams in over 30 years of organising major exhibitions, publishing, events and promotions.
She is currently the deputy editor of Irish Countrysports and Country Life magazine and a Director of the award winning Country Lifestyle Festival.
While Irene actively supports all countrysports her main interest is in helping Albert with his Ruadth kennel of Golden Retrievers and Gordon Setters, and in facilitating countrysports events although she does enjoy occasional clay pigeon shooting.
Their sons Johnny, David and Michael have been 'brought up with' the fairs and with their wives and increasingly their children form provide an impressive and highly experienced 'back up' team for all areas of the Fair.
The Late John McClelland & Liz Mc Cracken - Admin Director
Our late colleague John McClelland brought to the Fair a lifetime of commitment to shooting and fishing including wildfowling on Lough Neagh.
In spite of having suffered from a debilitating lung disease John contributed fully to the development of what are now the leading media in their fields i.e. the premier Irish countrysports magazine and web portal and the Great Game Fairs of Ireland.
He was delighted when the team's hard work and the primacy of the Shanes Castle event was recognised by the award of an NITB tourism award with the National Countrysports Fair at Moira in runner up position. And in spite of increasing ill health he helped plan the successful rescue of the Ballywalter Fair in 2010 and deliver the record breaking Irish Game Fair at Shanes Castle.
Unfortunately we lost John after Shanes Castle 2010 but we are delighted that his partner Liz Mc Cracken who has been involved in all facets of the fair has taken John's place as a Director of the Northern Fairs.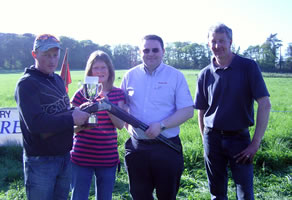 Liz McCracken presenting the John McClelland Memorial Cup at Ballywalter Game Fair
Edwin Dash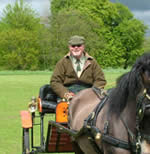 Operations Director Edwin Dash brings to the Fair impressive customer relations skills honed in a position as customer complaints manager for a large international telecommunications company and as site manager and assistant Director of various Game Fairs for 34 years. He is recognised on the show circuit as one of the most helpful and welcoming Game Fair site managers.
A keen shooting and fishing enthusiast Edwin has developed an interest in equestrian driving and has competed and exhibited successfully at a number of events throughout the UK.
Since taking early retirement Edwin has lived the "good life" in rural County Down with his small holding, game rearing, horses, dogs and poultry.
Paul Pringle - Director of PR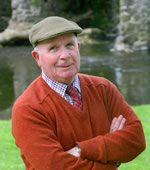 After a lifetime working as a PR professional, involved with strategic news management at the highest levels, that experience is now put to work for the benefit of country sports.
He is Editor of Irish Country Sports & Country Life, the leading quarterly magazine which has reached record numbers of readers in the shops through its hard copy version and internationally for an 75-80,000 Internet audience worldwide.
An avid game shot and flyfisherman, with his finger on the pulse of country sports, Paul's investigative journalism has seen the magazine tackle a wide range of thought provoking topics, making it a 'must read' for anyone seeking the 'story behind the news.'
He is particularly pleased to be PR Director of the Great Game Fairs of Ireland and has brought much added value to the media and publicity campaigns aimed at promoting and publicising the events at Shanes Castle, Antrim and Birr, Co Offaly.
As he says himself: "Despite being the leading game fairs and country lifestyle festivals in Ireland, the challenge is always to get the latest news out to the public as quickly as possible, so that everyone can plan ahead to take in these unmissable events.'
"The Great Game Fairs of Ireland have always been at the forefront in Ireland. It's my job to make sure the public know well in advance the many exciting new developments planned for the next game fair."
Derek Fanning - ROI Director
Derek is Deputy Editor of The Midland Tribune newspaper in Birr and the Republic of Ireland Editor for the Irish Country Sports and Country Life magazine. He has been a lover and keen follower of Country Sports for 25 years and has hunted regularly with several packs including the Ormond Foxhounds, the East Galway Foxhounds, the Curragh Foot Beagles, the Balgarrett Beagles and the Rockview Foot Harriers.
He believes Country Sports bring mental and physical benefits to their practitioners and are a very important part of our Irish heritage.
Specialist & Experienced Event Directors:
The organising team is supported by a very experienced team of event directors all of who have extensive experience in organising major events: Stevie Munn; Paddy Keenan and Mark Tierney (Angling) a world famous caster and organiser of the Irish Fly Fair in Galway; Joe Johnston & Geoff Peoples (Retrievers) & Ken Lindsay (Spaniels); Kenny Thomas (Clay shooting) and Tom Barry (Terriers, Whippets and Lurchers).
With such a team in place and a superb venue in Shanes Castle, provided by most dedicated hosts, Lord & Lady O'Neill,we are convinced that both the Shanes Castle and The Birr Castle Fair will continue to grow as the Great Game Fairs of Ireland.
To contact the organisers call 028 (from ROI 048) 44839167/44615416 E: irishgamefair@btinternet.com