COUNTRYSPORTS & ARENA
COUNTRYSPORTS ATTRACTIONS & ACTION PACKED ENTERTAINMENT in THREE ARENAS
A huge number of family attractions in all areas including: an extended tented village of trade stands including several new stands; an extended Living History Festival; an expanded Fine Food & Drinks Festival and a great range of 'have-a-go' opportunities for the whole family.
TRADE STANDS
We have the largest number of trade stands ever in all areas including the Fine Food & Craft Festival and one of our regular exhibitors Paul Morgan, from Cochy-y-Bundu books has got into the theme of promoting good artisan food linked to country sports and the rural way of life by bringing an excellent range of country cooking books to enhance his superb range of hunting, shooting, fishing and countryside books.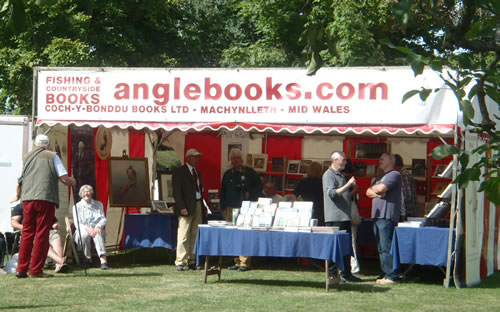 It has been requested that ALL exhibitors have at least one special bargain on their stands.
Gunmakers Row
We have our best ever Gunmakers Row at Shanes, featuring an excellent range of guns, clothing and accessories and even ideas on where to shoot and how to improve your shooting. Some of the traders who we welcome back are McCloys Guns Unlimited, Elite Sports, Smyths Country Sports.
For the first time 'Guides Choice' (formerly River Mourne Guns & Tackle) join us, as does UK Gunmaker Scott Wilson with his own guns and those made by his father on display. As well, he and his apprentice are offering a gun assessment and repair service.
Get your gun assessed and fixed by Scott Wilson, Gunmaker.
We are delighted to welcome gunsmith and English gunmaker Scott Wilson to the fair. Scott will be offering a gunsmithing & assessment service and displaying quality English gun made by his father, John Wilson.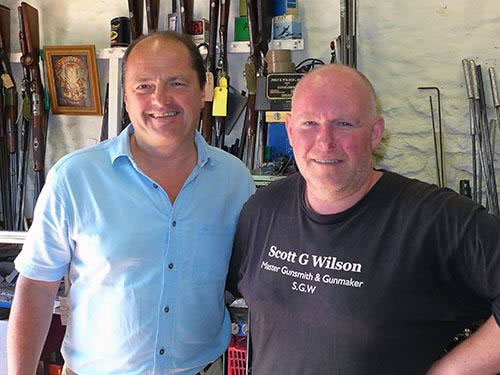 Scott with Nick Holt from Holts Auctions for whom he carries out repairs and restorations
Scott and his apprentice Helen will be offering a gun assessment, servicing and repair service so don't miss this opportunity to get your gun checked over. They will also be displaying guns made by Scott and his father like the example below.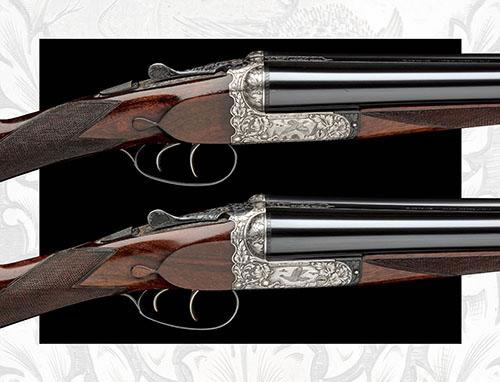 JOHN K. WILSON & SON
A PAIR OF PORTSMOUTH-ENGRAVED 12-BORE BOXLOCK EJECTORS
Countryside Alliance Ireland at the Fair including having PSNI Firearms Branch staff to discuss firearms matters
"Countryside Alliance Ireland (CAI) is again delighted to be the biggest all Ireland country sports organisation in attendance at Shanes Castle this June.
Given that this is a very special 'All Ireland Irish Game Fair', we are going all out with our marquee and playing host to an array of exhibitors including the British Deer Society (NI), PSNI FEB, PSNI Wildlife Liaison, Sunnyland Beagles and the NI Stick Carvers Club.
PSNI FEB will be on hand to answer queries in respect of firearms licensing matters, including the online application system. The NI Stick Carvers Club will be demonstrating their craft on the Saturday and hosting a competition on the Sunday. As always, one of the highlights in our marquee will be the Sunnyland Beagles who provoke much interest amongst the young and not so young alike!
CAI is very much looking forward to the Fair as it gives us the opportunity to meet and engage face to face with our members and supporters. We wish the organisers well for this very special 'All Ireland' event"
Field Target Air Rifle Shooting
The Mid Ulster Air Rifle Club was formed in the early 90's and was originally based in the Dungannon area. The Club moved to Washing Bay in early 2000 and shared a ground with a Shotgun Club. In 2004 the Club was offered an opportunity to move to Loughgall Country Park and they have resided there ever since.
This year the Mid Ulster Air Rifle Club will be offering visitors the chance to participate in two air rifle disciplines - Field Target and Hunter Field Target. Both involve shooting outdoors at metal knock down targets at ranges from 8 - 55 yards with hit zones from 15mm to 40mm either sitting, kneeling or standing positions.
The organising club say, "Club members have over the years represented N. Ireland at World and European level and welcome the opportunity to give visitors to Shanes Castle a chance to try out the two disciplines Field Target (FT) and Hunter Field Target (HFT) with various air rifles. The aim during the Game Fair is to provide a fun challenge event in a safe controlled environment and hopefully attract new participants to the sport."
If you fancy giving it a try come you can visit their stall where club members will be happy to take you through the disciplines.
Game keepers marquee & game displays
Another 'must stop' visit at the fair must be the 'Game Keepers Marquee' co-ordinated by Head Keeper Bill Storer. Amongst the interesting exhibits are game keeping equipment, sporting art, taxidermy, vintage weapons and of course a wide range of game.
Salmon & Woodcock Pavilion
The Salmon & Woodcock Pavilion is another area where opportunities to shoot and fish are 'blended' with many other countrysports related matters.
Some of the exhibitors include DAERA Inland Fisheries Division, the Sixmilewater Trust Blackwater Fishing, the Ulster Angling Federation, FISSTA, wildlife artists John Moore & Sarah Majury, International taxidermist Ingrid Houwers, ROI Firearms dealer, Centregold Ammo with a superb range of Hunting Knives, Rogers Fishing tackle with a huge range of fly tying equipment.
And of course Ireland's only Hunting, Shooting and Fishing magazine Irish Countrysports and Country Life. Apart from the regular team of Northern Editor Paul Pringle and his wife Jill, there will be several guest appearances, including Alastair Beattie (AKA 'The Grumpy Gamekeeper') and Derek Fanning the ROI editor of the magazine.
Angling trade stands, including Rodgers, Serious Country Sports, AM Angling and RLS Boats and the casting area, are adjacent to Salmon & Woodcock Pavilion. Don't forget, demonstrations are carried out in the casting area and the Main and Countrysports in Action Arenas.
ARENA PROGRAMMES
The programme gives details of timings of the arena entertainment which is a rich and eclectic mix of quality countryports, living history and popular entertainment some of which is replicated 'in slower time' in the Countrysports in Action Arena.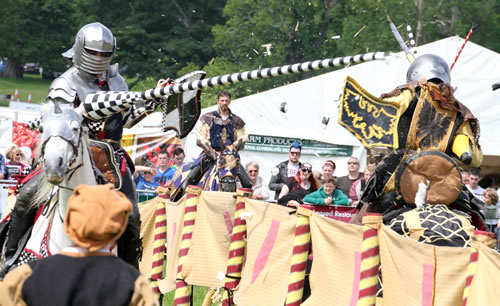 Medieval Jousting
Attractions include the Knights of the North medieval jousting; the Muzzle Loaders; Fly Casting Demonstration by Glenda Powell,Stevie Munn & APGAI Ireland team; Free Flying Falconry display by John Carmichael of the NI School of Falconry; Zoltan with his medieval horse back archery display, Gundog Demonstrations by the Red Mills International Team.


zoltan with his medieval horse back archery display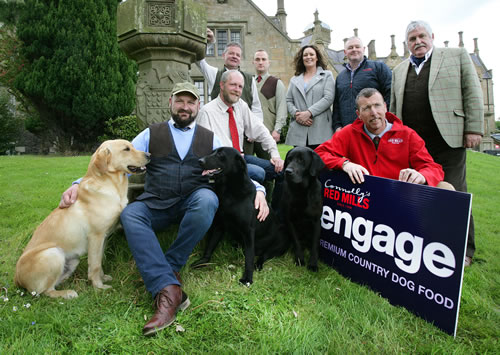 Red Mills gundog Team
Horse and Hounds with the Killultagh, Old Rock and Chichester Foxhounds and the Sunnyland Beagles; Free Flying Falconry display by John Carmichael; The Warrener; Living history display by Living history Ireland; Dog Agility by the Glandore Dog Training Club; Sheepdogs; Western Riding Display by Derek O'Byrne-White and the Cochise Stud; Horse Drawn Vehicle Display; Pipe Bands and Children's Dog Show by Gundog Rescue and Re-homing.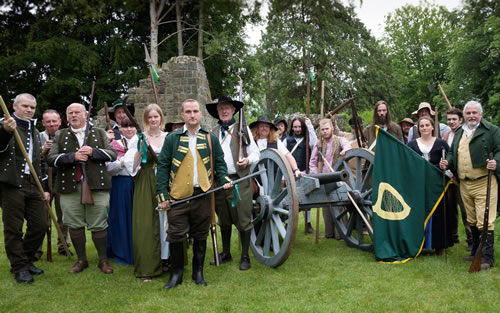 Battle Re-enactors
Country Sports - in Action!
The Country Sports in Action Arena; a unique concept introduced by the Irish Game Fair team in 2010 has become a firm feature over the spectacular two day event. The arena was initially introduced to allow visitors and mainly children the opportunity to get up close and personal with country sports demonstrators, ask questions and "try their hand" at their chosen sport. From fly casting to long netting, ferrets and falconry. The arena has grown considerably since its inception in 2010 and now hosts a wide variety of demonstrations, activities and displays all which you can "Try yourself".
Over two days the Country Sports in Action arena will be literally nonstop from morning to evening and host some of Irelands best known country sports personalities who will be happy to answer your questions, offer advice and take you into the arena to try it for yourself. The lovely Glenda Powell champion fly caster, the muzzleloaders, John Carmichael from the Northern Ireland School of Falconry & Steven McGonigal Irelands only professional rabbit catcher are just some of the people visiting us over this two day Country Sports spectacular.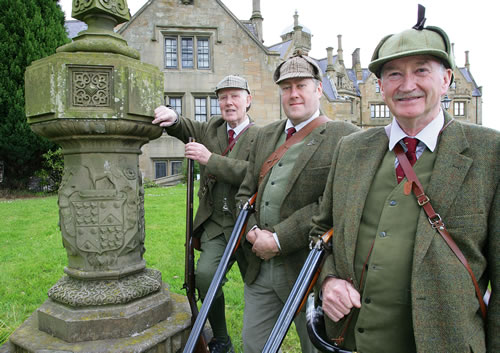 Muzzle loaders
Ireland's fastest ferret 2019
Ferreters, ferret enthusiasts and anyone who enjoys really good fun all make their way to the Country Sports in action arena on Sunday 30th at 11.00am - The hotly contested title of "Fastest Ferret in Ireland" is up for challenge. The pipes are down, the ferrets are ready to go. Organised and ran by Darren Moore and Graham Fyffe, this hugely popular event grows year on year and is not only a demonstration of the unique anatomy of the ferret but a morning of really good fun for all the family.
More activities from Gundog Rescue and Rehoming including in the Countrysports in Action Arena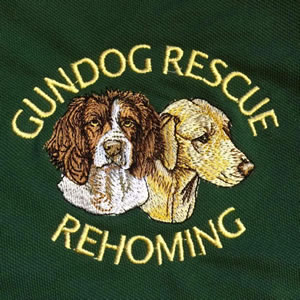 GDR&R are excited to be included in the Great Game Fairs All Ireland 40th Celebrations and delighted to announce that they will be running several fun events while at the same time highlighting the important rescue work that they do.
On Saturday and Sunday we are running our Gundog Scurry, so come have fun with your dog at our stand, £3 a run or 2 runs for £5. Some Great prizes to be had! Sponsored by the Countryside Alliance Ireland, Feedwell Dog Foods, Red Mills and many more.
During the Scurry, we will be running a Junior Handler Competition. Competition is open to Under 18s with own or borrowed dog (Field Trial dogs Permitted) and will be based on the Handler not the Dog. Great Prizes up for grabs for 1st, 2nd and 3rd placed Handlers.
On Saturday morning by kind Invitation starting at 11.00 am in the Countrysports in Action Arena we are Hosting 2 Dog Show events, (1) the Children's Fun Dog Show and (2) This Year we are running a Gundog Rescue and Friends Rescue dog Show, To highlight the work our Friends and our Rescue do throughout the year. In between these two shows there will be a canine First Aid Demonstration by Keith McCabe from ATS First Aid.
We invite our fellow countrysports enthusiasts from all over Ireland and GB to be part of Irish fieldsports history by making this the largest gathering of hunting, shooting and fishing enthusiasts ever. We will have done our bit to create and promote a great programme of competitions and attractions; providing a fantastic range of huge value discounted admissions and all of the ingredients for a fabulous country sports weekend - it's now over to you to help make it happen!