Bygones & Children's Attractions
As part of Great Game Fairs of Ireland team's interest in local history and rural traditions this year we have enhanced our 'BYGONE's ' theme throughout the fair with several interesting exhibits and displays including:
The 3rd Annual NI Stick Making Championships organised by the NI Stick Carvers.
Apart from the championship the group will be demonstrating the art of stick making and how they are keeping this rural craft and tradition alive.

Prize winning sticks
It is expected the championships will attract over 300 sticks from all over Ireland competing in 19 classes for the coveted title of Best in Show. The winner will receive the Lindsay Memorial Carlisle Perpetual Trophy which the Game Fair directors have presented in memory of Lindsay, who was stick maker to the Great Game Fairs of Ireland for several years. Judges are Tom Crowe , Castldeg and Steven Hall, Coleraine.
New Horse Spectacular
Enthusiasts will be harnessing a lifetime passion for all things equine next month to create a massive horse and pony spectacular at the annual Irish Game Fair at Shanes Castle.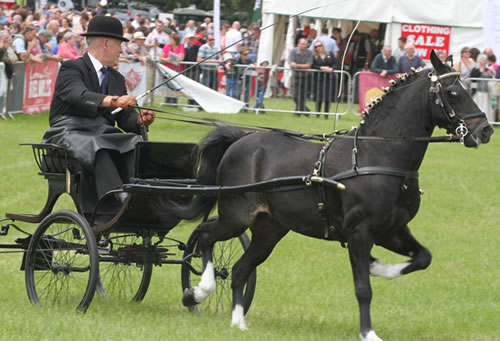 Elegance and Precision
As Ireland's biggest and most successful celebration of country sports, pursuits and interests prepares to mark forty fabulous years, the Great Game Fairs of Ireland is adding extra excitement to the ruby anniversary with the inclusion in the programme of an all-new horse show and display, staged by the prestigious Irish Hackney Horse Society.
Announcing the development, Fair Director Edwin Dash said: "Horses and ponies are at the heart of our rural heritage so, very naturally, they have always been an important facet of the Irish Game Fair experience. This year however our ruby anniversary has spurred us into action and we're looking forward to the unbridled spirit of our equestrian legacy taking centre stage.
"The Irish Hackney Horse Society has come on board to stage what will be a major - and highly competitive - horse show in the Countrysports in Action Arena on Saturday 23 June, together with a hugely impressive display in our main arena.
"Alongside these great events we'll have a range of thrilling equestrian demonstrations including thrilling medieval jousting by a top international team, the Knights of the North from the borders of Scotland; displays of European Champion Western Riding and Dancing Horses from the County Offaly-based Cochise Stud, mounted cavalry at the Battle of Antrim re-enactment and horse drawn threshing from Johnnie Fee. All equestrian life is here so, if you love horses and ponies, you'll certainly love the Irish Game Fair."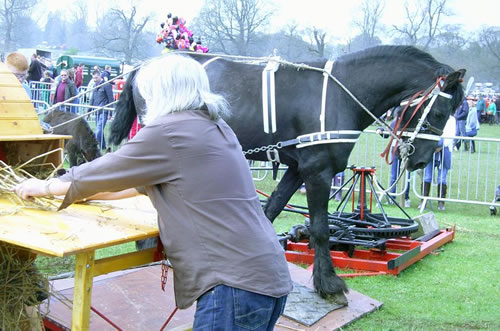 Horse Drawn Threshing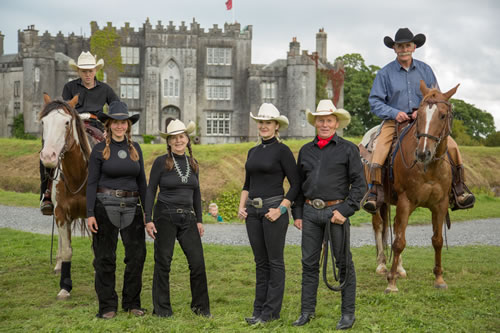 Dancing Western Horses
Entries are now open for competition sections which will include:
Native Pony Breeds (Shetland, Highland, Exmoor, Connemara, etc) In Hand; Native Horse Breeds (Clydesdale, Irish Draught, etc) In Hand; Welsh Cobs In Hand; Irish Sport Horse In Hand; Part Bred Horse or Pony In Hand; Rare or Endangered Bred Pony (Hackney Pony, Dales Dartmoor, etc) In Hand; Rare or Endangered Bred Horse (Hackney Horse, Clydesdale etc) In Hand; Any Other Bred In Hand; Young Handler; Donkey In Hand; Exercise Vehicle; Multiples (2 or more equines to a suitable turnout);Trade Vehicles; Country Turnout; Private Driving; Hackney Pony; Hackney Horse; Lady Whip; Junior Whip; Disabled Driver
To enter, contact Ian on 07849494958 or e-mail armstrong.in@gmail.com
New too - is Jordan McGowan - his Sheepdogs & Ducks.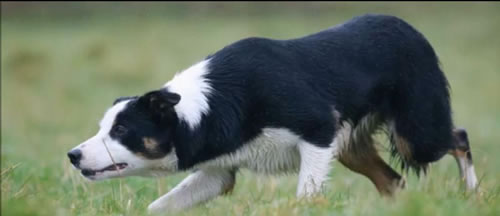 Pip the sheepdog in action
Sheepdog trainer and duck wrangler, Jordan McGowan aged 26, will be making his debut at the fair. Jordan has been training sheepdogs for almost 8 years now and has recently expanded the business (Silverstream sheepdogs) alongside business partner Linda Jones to include Sheepdog demonstrations using ducks and geese, coordinating them over and through obstacles using the dog for family events and fun days.
Jordan has a real passion and love for his dogs and enjoys the thrill of watching them advance in their training to become assets on any farm. Silverstream sheepdogs also help farmers up and down the country understand and develop a strong working bond with their own sheepdogs as Jordan offers training days from their farm based near Larne.
"Pip is our main duck dog. She has just turned four years old and has plenty of brains when it comes to working stock especially sheep which tend to have none. She had great stamina and a real drive to learn. Pip has earned her keep ten times over and for that reason will never leave my side. One in a million!"
The Warrener
Steven McGonigal famed as the 'Victorian Poacher' returns with a new traditional 'rabbit based act' as the 'Warrener'. The ways and wiles of the old 'gentlemen' of the countryside are brought to life by Steven M. Steven also carries out a separate more detailed display of long netting.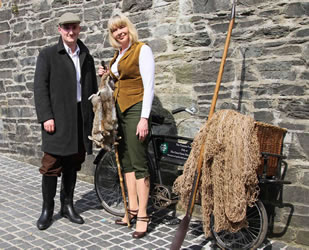 And Steven shows Emma Cowan some of his 'tools of the trade'
World Class Taxidermy by Ingrid Houwers
International award winning taxidermist Ingrid Houwers brings a great range of superbly mounted specimens to the fair in the 'Salmon and Woodcock' Pavilion such as this 'left and right' woodcock display. She also demonstrates this ancient craft by working on specimens during the show and she is always willing to give advice on having specimens professionally mounted.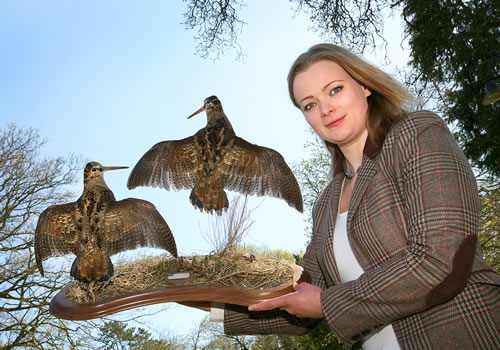 Ingrid with a 'left and right' woodcock
Aerial Displays
Free Flying Falcons
As usual John Carmichael from the NI School of Falconry will carry out a free flying falconry display including owls and eagle owls. He will also have a static display of birds and is happy to discuss this ancient country sport.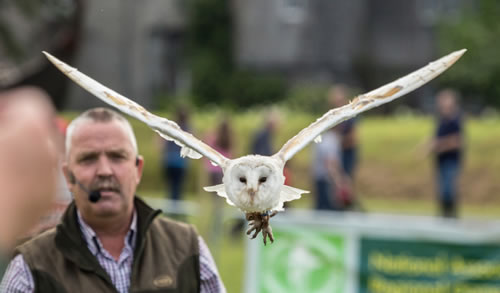 The Irish Hawking Club will also have a static falconry display.
LIVING HISTORY FESTIVAL
The Living History facet of the fair, based in the evocative loughside setting of the old ruined castle, is under the direction of George Logan from Living History Ireland. This too has been expanded into virtually a 'stand alone' Living History Festival of size rarely seen in Ireland.
With a range of timelines ranging from the Viking who sailed up the Bann to the 1798 rebellion, this provides not only entertainment but a truly living history experience for the whole family. This year the ever expanding encampment includes medieval traders including regular coin maker Grunel Moneta and Quivertock Ltd a company specialising in all sorts of replica weaponry and clothing.
"Quiverstock are purveyors of authentic hand fletched arrows and crossbow bolts, archery accessories and traditional bows. Quality padded and maille garments both off-the-peg and made-to-measure. Camp equipment including cookware, tent pegs, furniture and tents. And much more.... www.quiverstock.co.uk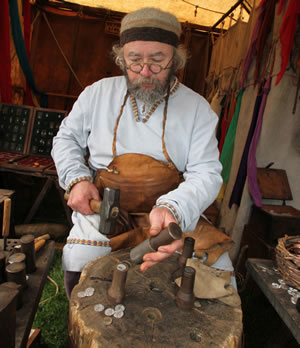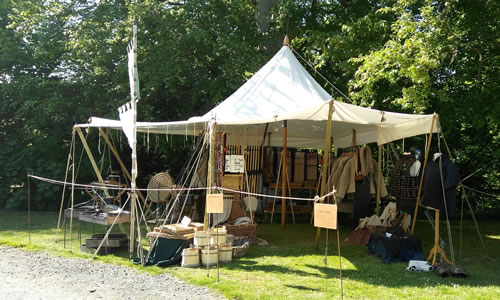 New also for this year and underpinning the All Ireland nature of the event is a visit all the way from County Kerry from the Tralee Medieval Society led by chair Helen Stacpoole. They will have three major displays including their Pavilion tent housing Lord and Lady Fitzgerald and family. Here, the ladies of the castle in their finery demonstrate fine embroidery techniques used in Medieval times as Lord FitzGerald regales them with tales of the hunt.
Their Tavern will house samples of medieval baking and non alcoholic drinks from all over Europe and a display of spices and cooking implements used in Medieval era. The public will be able to experience the chore of making 'powdered sugar' using only a pestle and mortar under the watchful eye of the Tavern Owner! There will also be demonstrations of basket making and for those unlucky enough to need Dentistry, the barber surgeon will be open for business!
For the members of the public who like to get in the Medieval Spirit, there will be child friendly crossbows to fire and axes to throw. The Merchant tent houses a display of spices and items which would have been traded in Medieval times. Available for public purchase there will be child friendly weapons and armour and crafts made by group members.
MORE UNIQUE Participation Opportunities for Children.
The fair provides an action packed opportunity for family involvement (much of it FREE).The Living History area gives children the opportunity for authentic interaction with costumed re-enactors in a setting which also hosts the Game of Thrones. And throughout the fair there are huge opportunities for children's participation including a fair ground, laser clay pigeon shooting, archery , air rifle shooting, and fishing. Two which have proven to be particularly attractive are the Laser Clay Pigeon Shooting and the 'Put & Take Fishery'.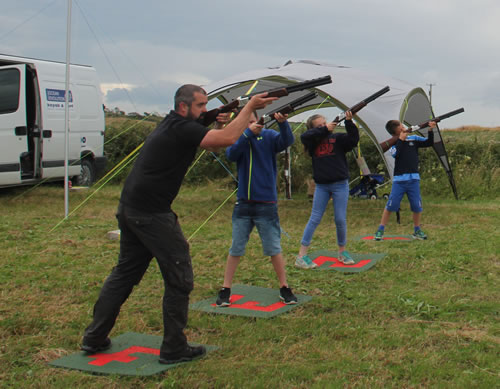 The laser clay pigeon shooting facilitates children and indeed the whole family to safely enjoy the experience of clay shooting using real 'deactivated' shotguns that shoot a laser at a launched clay pigeon. Totally safe and great fun where kids can beat Dad and Mum!
The very special fishing area of the fair is a mecca for children! In the Salmon & Woodcock Pavilion they can try simulated fishing on the DAERA Inland Fisheries stand and if they want to try the 'real thing' the instructors of APGAI Ireland are only too delighted to teach them to tie flies and cast before they go to the 'put and take' fishery (under the direction of Bobby Bryans of NSN) to actually catch a trout. While there they might even come across a 'very fish' leprechaun who can help them catch their very first fish.