Bygones & Other Attractions
As part of Great Game Fairs of Ireland team's interest in local history and rural traditions this year we have enhanced our 'BYGONE's ' theme throughout the fair with several interesting exhibits and displays including:
The 2nd Annual NI Stick Making Championships organised by the NI Stick Carvers.
Apart from the championship the group will be demonstrating the art of stick making and how they are keeping this rural craft and tradition alive.

Prize winning sticks
It is expected the championships will attract over 300 sticks from all over Ireland competing in 19 classes for the coveted title of Best in Show. The winner will receive the Lindsay Memorial Carlisle Perpetual Trophy which the Game Fair directors have presented in memory of Lindsay, who was stick maker to the Great Game Fairs of Ireland for several years. Judges are Tom Crowe , Castldeg and Steven Hall, Coleraine.
Grunal Moneta
Dave T Moneyer facsimile coin maker to the British Museum will be present to help children strike their own medieval coins including a very special Shanes Castle momento.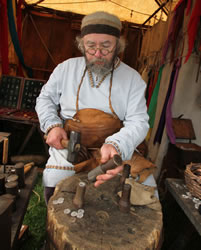 The Shanes Castle Steam Organ
We are delighted to once again have Lord O' Neills famous Shanes Castle Steam Organ and railway carriage pulled by the 'Banshee' (see https://www.youtube.com/watch?v=UAzMsCviLj4)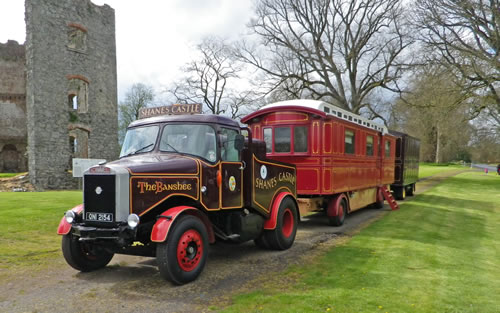 The Shanes Castle Steam Organ
Horse Power of different types
Apart from the normal display of horse drawn vehicles organised by Director Edwin Dash, and sponsored by Red Mills, this year we will be also have static display of vehicles throughout the two days by the 'Whip and Collar' Driving Club.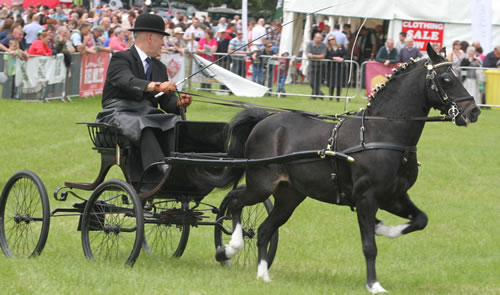 Elegance and style from a bygone age.
We will also have horse drawn threshing by Johnny Fee who can also discuss the ways of the old Romany with visitors.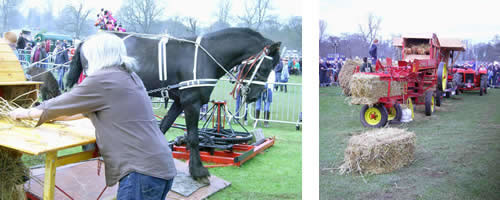 Johnny Fee and his horse drawn threshing.
The Victorian Poacher
The ways and wiles of the old 'gentlemen' of the countryside are brought to life by Fair Directors Edwin Dash and Steven McGonigal with their Victorian Poacher v Game Keeper displays in both Main and 'Countryside in Action' arenas. Steven also carries out a separate more detailed display of long netting.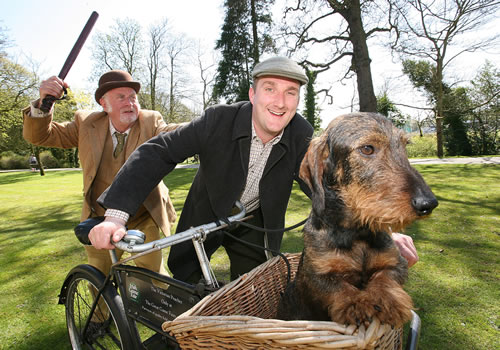 Steven with his old adversary Eddie Dash the Game Keeper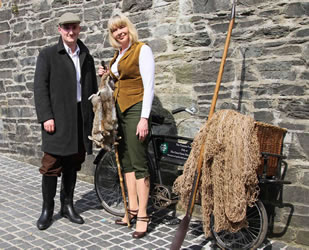 And Steven shows Emma Cowan some of his 'tools of the trade'
World Class Taxidermy by Ingrid Houwers
International award winning taxidermist Ingrid Houwers brings a great range of superbly mounted specimens to the fair in the 'Salmon and Woodcock' Pavilion such as this 'left and right' woodcock display. She also demonstrates this ancient craft by working on specimens during the show and she is always willing to give advice on having specimens professionally mounted.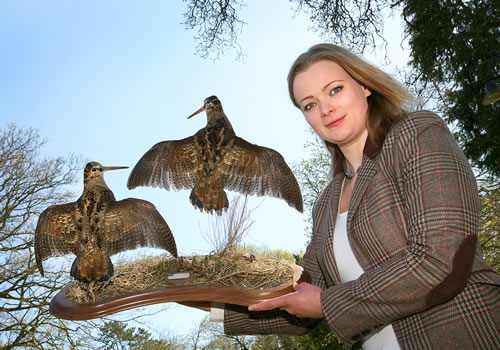 Ingrid with a 'left and right' woodcock
Aerial Displays
Free Flying Falcons
As usual John Carmichael from the NI School of Falconry will carry out a free flying falconry display including owls and eagle owls. He will also have a static display of birds and is happy to discuss this ancient country sport.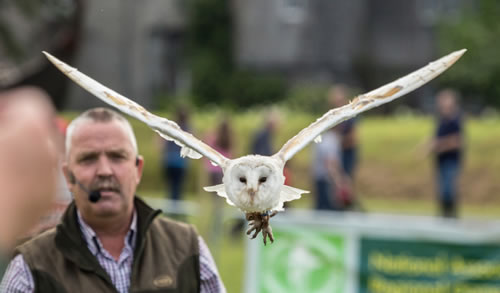 The Irish Hawking Club will also have a static falconry display.
And for those of a more mechanical 'bent' - a display of gliders as the Ulster Gliding Club will mount static display