Angling
ANGLING FOR EVERYONE - The NI ANGLING SHOW will be an integral part of THE IRISH GAME FAIR, SHANES CASTLE, ANTRIM on the 24th & 25th June 2017
The angling show features a number of stands featuring fisheries, tackle dealers, boats, and representative organisations, fly tying, casting instruction & demos, competitions and a put and take fishery for children. PLUS major information stands by DAERA Fisheries Division and Inland Fisheries Ireland and obviously access to all the attractions of Ireland's largest country sports event set in the stunning traditional setting of the Shanes Castle Estate.
The great range of competitions is supported by a huge tented village of trade stands including an extended Fine Food Festival with celebrity chef, Emmett McCourt, author of the award winning book Feast or Famine, and a keen angler himself, cooking all types of game and fish dishes including Lough Neagh eels in the Flogas Kitchen.
The angling competitions and demonstrations are organised by Stevie Munn and APGAI Ireland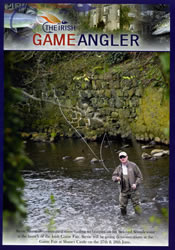 Stevie Munn & Glenda Powell plus the APGAI team will be demonstrating at Shanes Castle
ANGLING PROGRAMME at The Irish Game Fair
Speaking at the launch of the Game Fair at Brownlow House, director Albert Titterington said "Each year we build on success and I am delighted to announce that the NI Angling Show which we introduced as a show-within-a-show a couple of years ago has proven so successful that it will now be an annual highpoint. Angling is, famously, one of this country's most popular participation sports so it is fitting that it should have its own major annual showcase, giving an important new dimension and vibrancy to a Game Fair which already encompasses the broadest possible range of country sports and pursuits.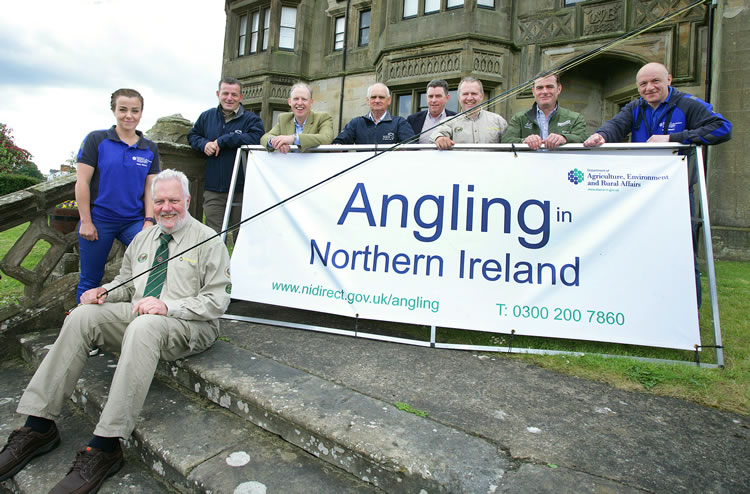 The Angling team at the launch of the fair
John Blair from DAERA Fisheries Division stated "DAERA Inland Fisheries Group is delighted to support and attend the Irish Game Fair at Shanes Castle as a main exhibitor at the event. Previous years have shown us that this Fair, with its many thousands of visitors, is an ideal opportunity to engage with our established customers and the wider public. It is also a tremendous benefit that we have been able to work with the Fair organisers to provide entrance fee discount vouchers for DAERA Angling Licence holders.
And demonstrating the All Ireland support enjoyed by the Great Game Fairs of Ireland, Suzanne Campion, Head of Business Development within Inland Fisheries Ireland, which will be at Shane's Castle again this year, shares that enthusiasm, saying her organisation is looking forward to 'a Great Game Fair', adding, "We look forward to meeting old friends and those yet to experience the wonderful fishing opportunities on offer. Whether you wish to fish in Donegal or Dingle or anywhere in between, our experts will be on hand at Shane's Castle with advice and tips."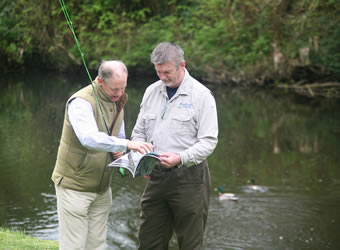 North/South co-operation Michael Martin, Sixmilewater Trust and author of acclaimed articles in The Irish Game Angler insert in the Irish Countrysports and Country Life magazine discusses future subjects for articles with David Byrne from Inland Fisheries Ireland
SUPPORT FROM INLAND FISHERIES IRELAND AND DCAL FISHERIES GROUP will help fund discounted admission for anglers visiting the Shane's Castle Fair and its sister event at Birr Castle, County Offaly in August. Discounts are accessed via a special voucher available from tackle dealers North and South. The Angling Show at Shanes Castle is supported by DCA, and all DCAL permit holders or licence holders can have a £5 voucher for admission off the cost of an adult ticket (normally £10); a family ticket (normally £25) or will cover a child's admission (normally £5). To activate this voucher simply put in your permit/licence no and present it at the gate. Call in to your local angling shop to pick up your voucher or contact DCAL Fisheries Division.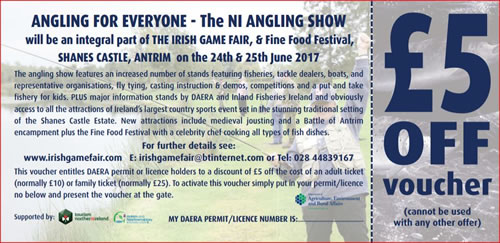 ORGANISATIONAL SUPPORT
The event is supported by a number of organisations including FISSTA, the Federation of Irish Salmon and Seat Trout Anglers ; the Ulster Angling Federation (UAF), and CAI.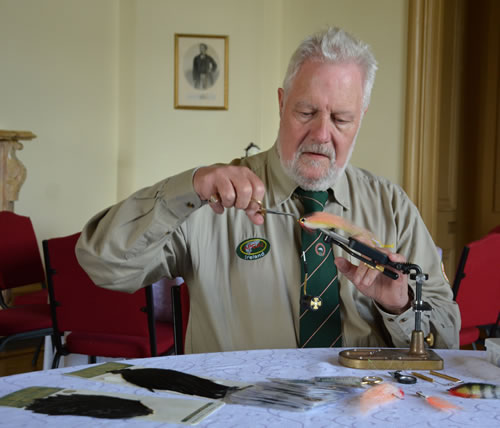 Arthur Davidson Vice Chairman APGA Ireland will be giving Fly tying instruction.
THE PUT AND TAKE FISHERY organised by Mark Tierney and NSN.
This focus on introducing children which was piloted last year, proved enormously successful, as Mark Tierney from NSN explains, "Due to the volume of visitors last year, we welcome the assistance from Loughmacrory Angling Club who have five newly qualified Level 1 Angling Coaches willing to assist us during the event. We learned a lot last year and hope to put what we learned to good use and make the whole experience much more enjoyable. The whole package entails dropping in to the APGAI Ireland Fly Dressers stand to tie up a fly, have a few casting lessons with the APGAI Ireland Casting Instructors, and then come catch a rainbow trout which can be taken home for the table, cooked on site by celebrity chef Emmett McCourt - author of the award winning Book 'Feast and Famine' or released if preferred.
So, bring your kids along to our stand which is located on the way out of the fair right on the shore of the Lough. We would like to recognise the contribution that DAERA's Fisheries Division have made this year again with the donation of trout and we would also like to thank Brian Anderson from AM Angling in Newtownards for the donation of rods for the event and Loughmacrory Anglers for the loan of extra equipment if required. Permitted methods will be fly in designated areas and bait fishing in a designated area."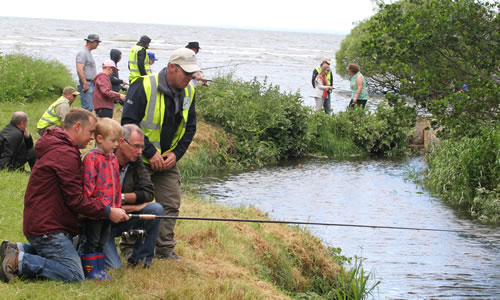 Children at the Put and Take Fishery
And of course Emmett Mc Court, no mean angler himself, will be featuring many game and fish dishes including Lough Neagh eels in his kitchen in the Fine Food Pavilion.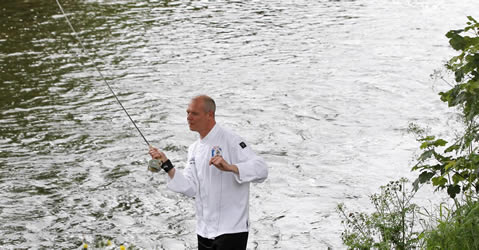 The Deputy Mayor of Antrim & Newtownabbey Council Councillor Noreen McClelland looks forward to sampling some of the Lough Neagh Eels which will be cooked at the fair by celebrity chef, Emmett McCourt, author of the award winning book 'Feast or Famine'.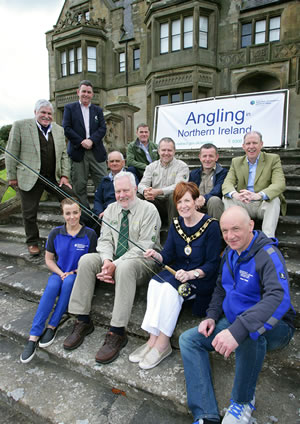 Deputy Mayor Councillor Noreen McClelland informed the angling team that the Council is currently producing an Angling Guide to the area which should be available the fair.